Home » FAQs and Guides » Property Purchase Budget Guide
Property Purchase Budget Guide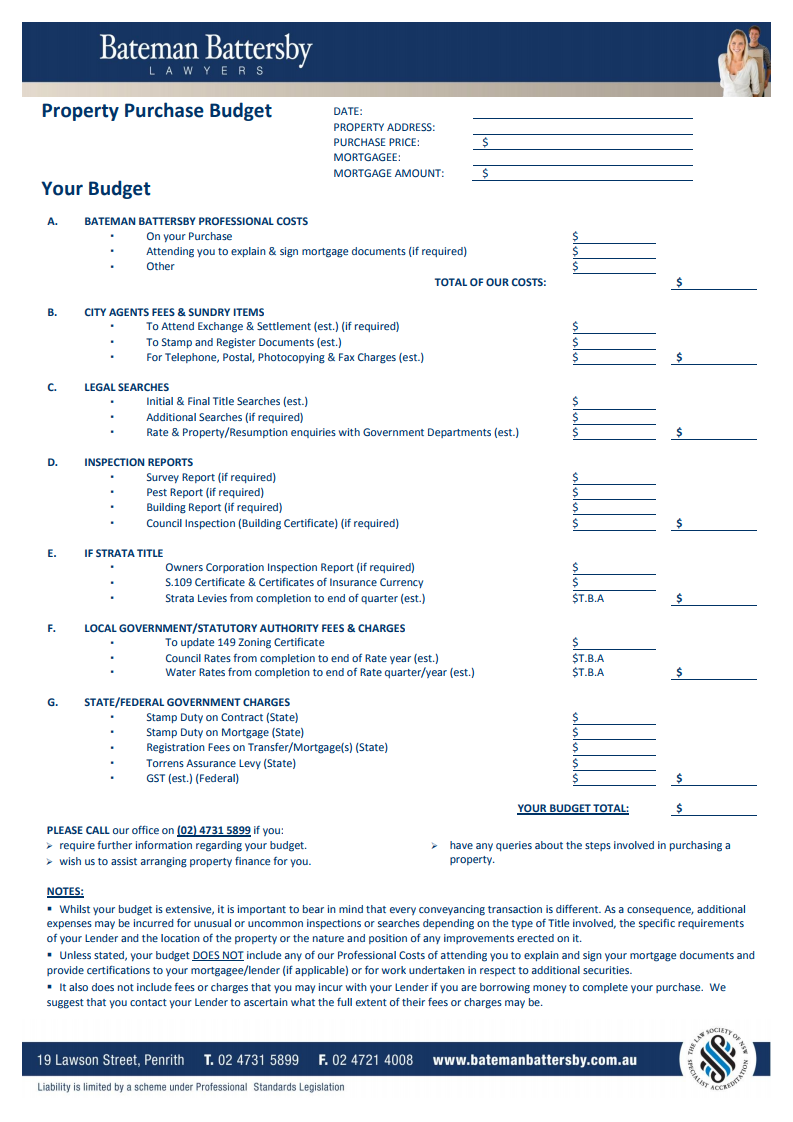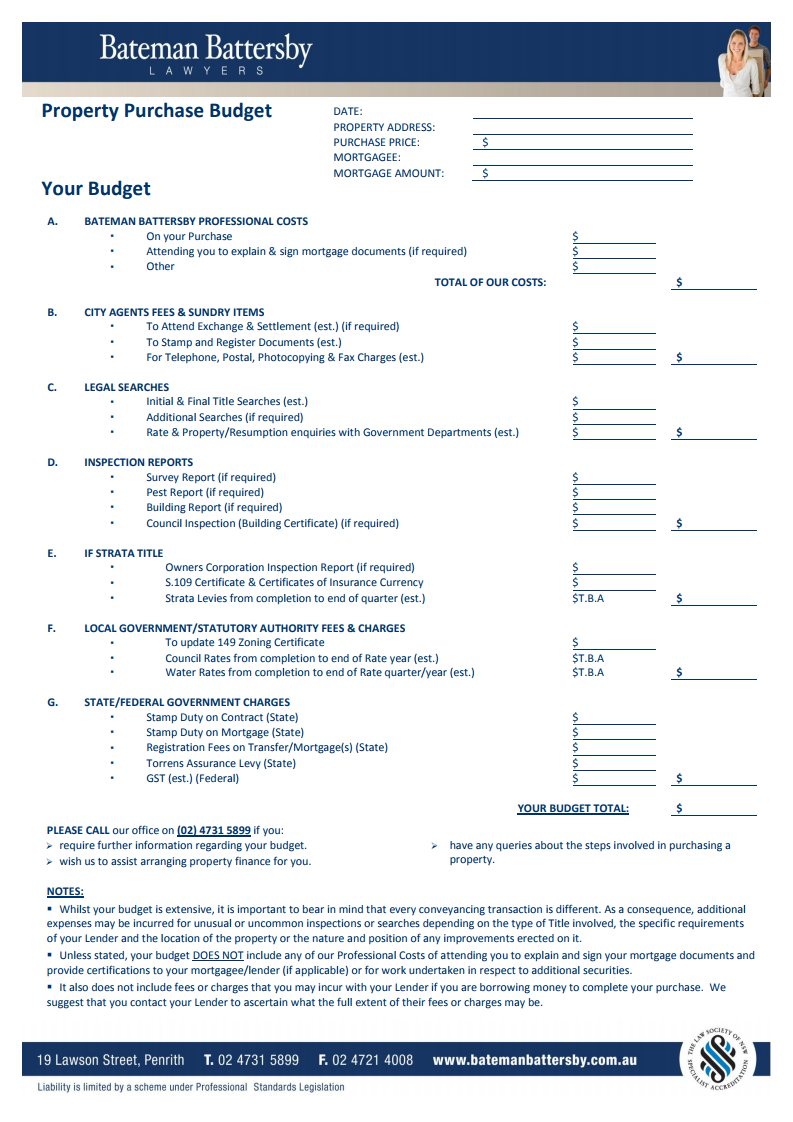 A. Bateman Battersby Costs
This section indicates the fees that you will pay to us for the work undertaken on your behalf on the purchase of the property. If you are borrowing money to complete the purchase, it will also include our costs for liaising with your lender/mortgagee to effect settlement of your purchase. Unless stated, it does not include our costs of attending you to explain and sign mortgage documents and provide certifications to your lender/mortgagee (if required) or for work done in respect to additional securities requested by your lender/mortgagee. Our stated fees are fixed except if something should arise during the course of your matter which necessitates additional work being undertaken by us. In this instance we will advise you of any further fees that may be payable.
B. City Agents Fees & Sundry Items
In the majority of cases the actual exchange and settlement of conveyancing transactions will take place in Sydney. Accordingly and in order to protect your interests we arrange for our City Agents to attend to these matters in person so as to ensure that each transaction is completed as required. In the event that we are able to either exchange or settle your transaction locally these fees will not be payable. The stamping and registration of documents associated with your purchase are done in Sydney at the Office of State Revenue and Land Property Information Office respectively. We also arrange for our City Agents to attend each of these Government Departments to stamp and where necessary register the conveyancing documentation so as to again ensure that matters are dealt with both personally and promptly. You will note that we have also made an allowance for any bank, telephone, postal, photocopying and fax charges that may be incurred during the course of your matter. Any monies not expended in this allowance will be refunded to you.
C. Legal Searches
During the course of your matter we will undertake different kinds of searches against the property you are buying so as to ensure that full title to the property can be conveyed to you upon settlement of your transaction. Prior to exchange of contracts (or if you have already exchanged contracts under a cooling off-period then prior to the expiration of the cooling off-period) we will obtain a Title Search of the property to ensure that the person you are buying from in fact owns the property and to ascertain what mortgages or other encumbrances will be required to be discharged and paid out by the vendor upon completion. We will also be able to ascertain from this search what covenants, easements or restrictions affect the title and their effect on your future use of the property. As legal searches are generally only "good for the day on which they are done" we will do an update of this Title Search on the day of settlement to make sure that nothing has changed in the intervening period of time. We will also conduct enquiries with various State Government Departments to make sure that none of them has a proposal to resume the property or otherwise conduct activities on the property that would affect your use of it. We will also do searches with the Local Council, Water Authority (if applicable) and Land Tax Offices, to find out what rates and taxes are outstanding Property Purchase Budget Notes on the property that will need to be paid by the vendor upon settlement. This will ensure that no arrears of rates or taxes remain unpaid once your purchase has been completed.
D. Inspection Reports
We can arrange for a Pest Inspection Report and a Building Inspection Report of the property on your behalf in order to ascertain the current condition of the property and as to whether the property is affected by any present or past activity of wood destroying pests. If you so desire you can of course obtain these inspections yourself however we caution you that you should ensure that the person you use is both qualified and carries professional indemnity insurance. If required a Surveyors Report will be obtained on your behalf to confirm the actual legal boundaries of the property and to ascertain that the improvements erected on the property are both built within these boundaries and the appropriate distance from such boundaries as required by the Local Government Authority. A Council Inspection may also be obtained, if required by you, to confirm that the Local Council is satisfied with the legality of all structures erected upon the property (Subject to the nature of the property and your instructions, these inspection reports will generally not be obtained if the property is held under Strata Title).
E. Strata Title
If the property you are acquiring is Strata Title we will arrange for an inspection of the books of the Owners Corporation to find out the extent of current levies payable by the owner of the property, whether any problems exist in the complex of which the property forms part and any potential major expenditure which the Owners Corporation may be contemplating incurring. We have also made allowances in this section to cover the costs of obtaining a Section 109 Certificate from the Owners Corporation, Certificates of Currency from the Insurer with which the Owners Corporation holds the relevant insurances required under current strata legislation. Please note that no allowance has been made for the Strata Levies which may be payable by you until the end of the current levy period as these will not be known until our initial investigations of the property have been completed.
F. Local Government / Statutory Authority Fees & Charges
We have also made an allowance to obtain an updated 149 (2) & (5) Certificate from the Local Council. Whilst the vendor will ordinarily annex a 149 (2) certificate to the Contract which you exchange, often this certificate will be out of date and will not contain information contained in sub-section 149(5) of the Act. The safeguard of obtaining this certificate is that you are fully protected in respect to the zoning of the property and as to any existing or proposed planning instruments by the Local or State Governments which may impinge upon your rights as the new owner. You will note that we have not made allowances for the payment of your proportion of both Local Council Rates and Water Rates as these figures are not known to us at this time. Council and Water Rates will however be adjusted between yourself and the vendor on settlement until the end of the current rating period. Therefore it is important that you make an allowance for this figure once known, when calculating the total amount of funds you will require to complete your purchase.
G. State / Federal Government Charges
In this section we have provided you with details of the Stamp Duty payable to the State Government on the purchase contract. Please note that there are a number of current stamp duty exemption schemes under which the Stamp Duty payable on the contract may be able to be waived or reduced. Please telephone us at your convenience so that we can discuss with you your eligibility under these schemes.
A provision has also been made for the payment of registration fees to the State Government in order to register a Transfer transferring the Title Deed to the property into your name and also to register against such Deed the existence of any mortgage involved with your transaction. You will note that an allowance has also been made for the GST payable in the transaction.
Please Note – Your Lenders Charges
Would you please note, as stated in your Property Purchase Budget, that your budget does not include any fees or charges that you may incur with your lender if you are borrowing money to complete your purchase. Accordingly we suggest that you contact your lender to ascertain the full extent of their fees which may include application / valuation fees, mortgage insurance premiums, and your lender's legal costs and disbursements etc.
Further Assistance
Attached is a flow chart which sets out the main steps involved in a conveyancing transaction. Also attached is additional information about the wide range of services offered by our firm.
If you would like to discuss your purchase budget or any of the above matters more fully please contact our office by phone on (02) 4731 5899 or by emailing property@batemanbattersby.com.au.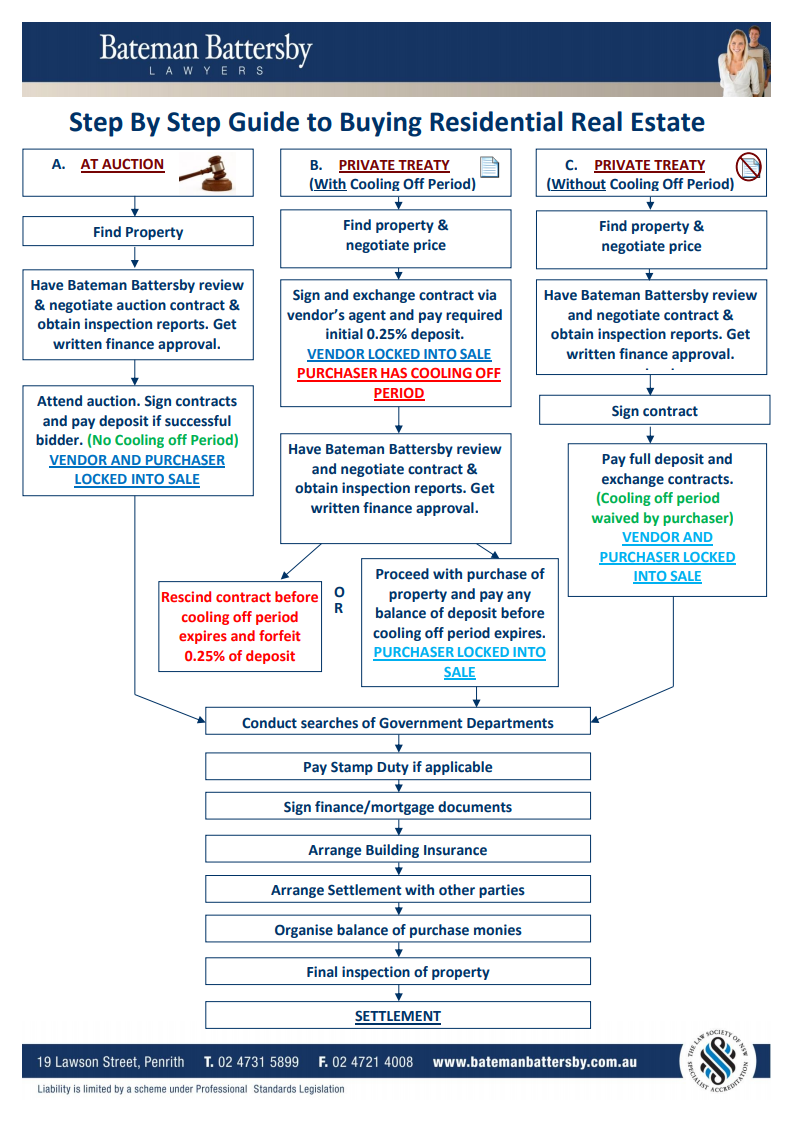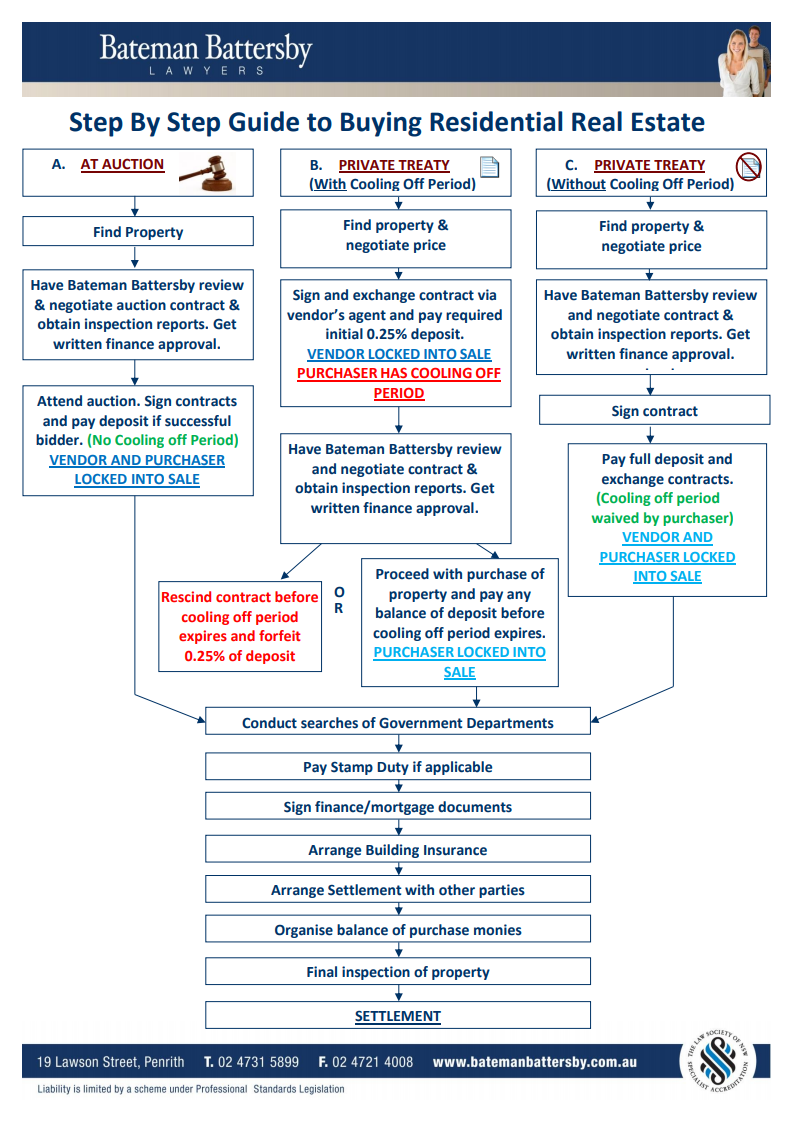 Download PDF Version:
Purchase Budget Guide
Contact us to see how we can help you