Bateman Battersby 2018 Bursary Winner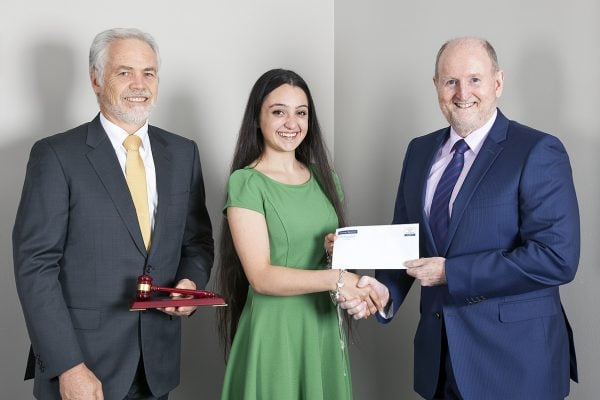 Piadora Rahme from St Mary's Senior High School is the winner of this year's Bateman Battersby Law Bursary.
Piadora completed the Higher School Certificate in 2018 achieving an ATAR of 98.55 and has been admitted to the University of Sydney to study for a combined Bachelor of Science and Bachelor of Laws.
We instigated the Bursary nearly 30 years ago to encourage local high school students to undertake legal studies at a tertiary level and many of the previous Bursary winners have gone on to achieve great success in practising law in a variety of fields, working in high level management positions in both the private and public sectors and teaching law at Universities both in Australia and overseas. These include:
1991 winner Paul Salisbury OAM, who also won the University of Sydney Law Medal and has enjoyed a distinguished career with the Australian Department of Foreign Affairs and Trade.
Dr Wayne Courtney (1993) who has taught Law at both the University of Sydney and the University of Melbourne and is currently Associate Professor of Contract and Commercial Law at the National University of Singapore.
Melinda Roylett (1997) formerly the head of Small and Medium Business for PayPal in Europe and currently the Head of Europe for global financial services company Square.
Dr Kristin Van Zwieten (1999) a UNSW Law Medal winner and currently the Clifford Chance Associate Professor of Law and Finance at the University of Oxford.
Kieran Colreavy (2003) currently Operational Risk Manager for the Commonwealth Bank in London; and
Alicia Back (2006) a UTS Law Medal Winner who has worked for global legal firms in both Sydney and London.
As the 29th winner of the award, we have similar hopes for Piadora, who was presented with the Bateman Battersby Bursary trophy and a cheque for $1,000.00 to assist her in her initial year of legal study by firm partners John Bateman and Michael Battersby.
Contact us to see how we can help you